Seattle Chastity Mistress and Femdom Keyholder Sessions
Have you ever been locked in chastity? How long have you been locked? Being locked in chastity and under my control is a great way to maintain our connection without being together in person or a great addition to a session as a build up!
Do you long and crave to be controlled beyond our time together? Do you have a deep desire to feel my grip tightly around you even when I'm not around? Do you feel like you need to be put in your place with regard to your sexuality? Do you need a strong routine to keep you in place and keep you in check? Perhaps you aren't deserving of having the agency over your own sexuality? Do you enjoy being teased and denied? Have you had girlfriends that were allowed to do anything they wanted with whoever but you weren't and that was the fun part? Have you ever been cheated on and found that some part of you secretly enjoyed it?
If any of this resonates with you or excites you then chastity might be something you may want to play with or explore keyholding and chastity.
Chastity can be something you play with for a few minutes or for months on end. It can be extreme with no way out or it can be playful with many games and opportunities for release from your prison. The core concepts are that you are locked up with no contact and I hold the keys to your freedom. In some cases, you may hold your own keys if you decide to lock yourself up for me. (Boys who do this are generally very dedicated and very special. Generally they stay locked away in total chastity for months on end.)
For all wear your device should fit comfortably enough to not rub you raw or cause undue discomfort and in such circumstances it should be removed ASAP. Devices come in metal, silicone and hard plastic.
Chastity can be stand alone, as a method of denial, as a humiliation device to keep a subject in their place in cuckolding style female led relationships, as an aid to help feminize a sissy slave or as a torture device if your device is particularly cruel. As with everything, the only limits are really your imagination.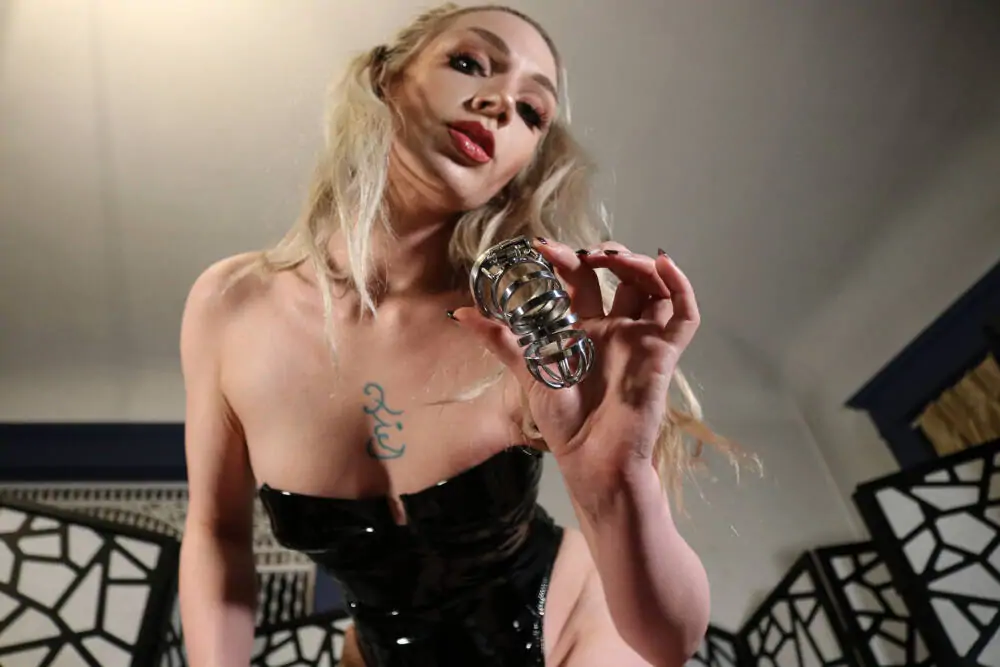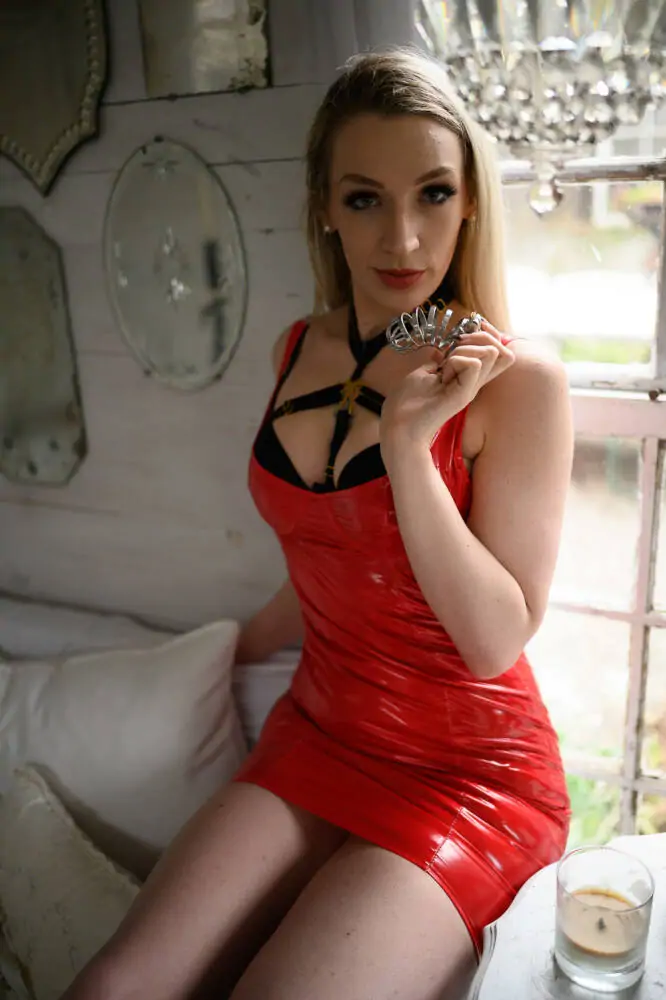 Seattle Chastity Mistress Sessions
In person it would be pertinent to get to know each other first before delving into chastity. Once you have met all my requirements you may go into chastity for me and we may sign an agreement or go on a case by case basis.
Online Chastity Mistress Sessions
For distance sessions it is best to set up a protocol for how things will work. You may send me your key for hold on to it depending on your needs. Regardless, I will be your keyholder and there will be strict rules. We may have things in place to prevent you from having access to your key without my explicit permission.
Femdom Chastity Regiment Training Programs and Seattle Keyholder Services
Self Driven Keyholder 50/week
Minimal interaction and check ins. You drive the car for your captivating your desires and keeping it check.
Hands Off Keyholder 100/week
Some interaction and some challenges for you to go through, some taunting and teasing. Maybe a picture if you're lucky.
Hands On Keyholder 200/week
Daily interaction, some pictures and task for you to accomplish for me. You want to please me don't you?

Exclusive Keyholder – 500/week
Lots of interaction from your Sexy Seattle Chastity Mistress. I will train you daily, Mercilessly. You will of course beg for more.