My Seattle Dungeon
Welcome to Mistress Ruby's Private Seattle Dungeon, an epicenter of BDSM and fetish delights for any submissive to drool over.
In my safe little corner of the world you will find yourself feeling cozy and comfortable due to the cozy intimate space I have created with the use of deep red hues, gold accents, wallpaper, drapes, dark woods and lots of restored antique furniture. It is has been described as having an old world feel- very Victorian mixed with something like a mystic opium den (no smoking permitted however.)
My play space is an expansive ground floor of an old but well maintained house that I ask you to be very respectful of.
My space has several rooms, however it is forever changing due to my eclectic nature. You will find most if not all amenities you could possibly need.
Allergy Warnings & Handicap Accessibility
My dungeon unfortunately is not handicap accessible due to stairs.
It is smoke free, pet free, I use hypo allergenic products, the air is hepa filtered and it is completely latex free.
Location
I am located about 10-15 from Downtown Seattle, about the same distance from Bellevue and about 35-40 minutes from Seatac airport.
Gear and Toys
My space and gear collection is ever expanding and updating so there is a good chance this list will be old. If you really want something or something that fits your body like a glove, bring it. Why? Have you seen how many different shapes and sizes of bodies there are? Try as I might it's impossible to perfect fit everyone but I'm on a quest to make that happen anyway. (Let's just say I'm a collector and I have some specific visions that have been inspired by particular people and artists.)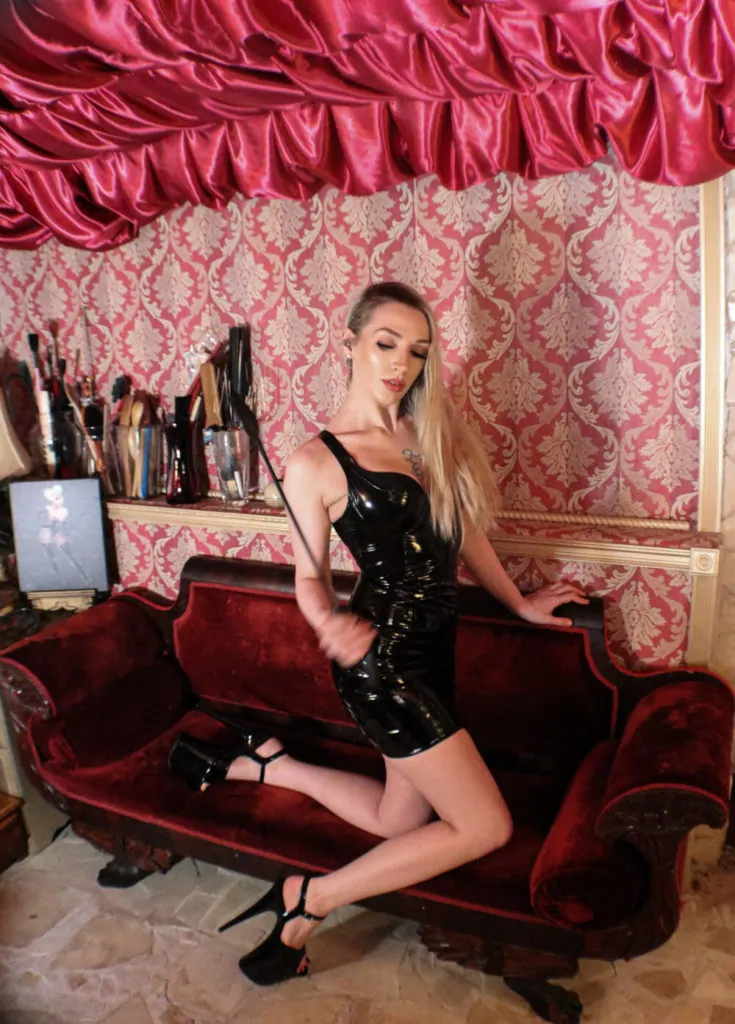 Equipment & BDSM Furniture
Furniture
Heated & Adjustable Massage Table
Cold Steel Milking Table
Large Dog Sized Pet Cage
Small Plexiglass CBT Table
Toilet Chair
OBGYN Table
Lucifer's Chair
Ceiling Hard Points
Thick Solid Wood Bondage Board
All Steel, Spread Punishment Chair
Solid Steel Upright Cell Cage
Steel & Padded Spanking Bench
A Lovely Jetted & Heated 7 foot Tub
Bondage Equipment
ROPE; Hemp, jute, synthetic, cotton and silk in many lengths
Hoods in leather, spandex, darlex, pvc
Muzzle
Gags
Spreader bars; variety of lengths in wood and steel
Shackles in steel, attached to bars and non-attached
Tie down points on various furniture
Heavy Leather cuff sets
Several gauges of chain
Tons of Locks
Collars and leads in leather, nylon, chain and rubber
Leather Straight Jackets
Strappado Style Leather Arm Binders
Canvas Straight Jacket
Leather Arm Binders
Nylon Body Bag
Darlex Body Bag
BDSM Equipment
Leather and synthetic hoods in full face, open mouth, open eyes and locking varieties
Blind folds in velvet, nylon and leather
Humbler and other CBT devices
Heavy Ball Weights
Kali's Teeth
Gates of Hell
The Magic blind fold by Scott Paul
The Humiliator Gag System
Ball gags; Red large ball, black small ball, locking, non locking
Dildo gags; Inflatable and locking
Puppy play gag
Funnel Gag
Chastity Devices
S&M Implements
Clover Clamps
Pinch Clamps
Clothes Pins; Plastic, metal and wood
Single Tails; 2 foot, 3.5 foot, 4 foot, 5 foot, 6 foot and 9 foot
Riding Crops; standard, novelty, dressage whips, short crops, rubber crop, punishment crop
Canes; plexiglass, carbon fiber, pine, nylon, leather, novelty, oak, bamboo
Paddles; Metal, wood, plastic, leather, bullet proof glass
Canes; rattan, plastic, wood
Leather Gloves
Night Sticks and other such heavy impact toys
Unusual Impact Toys
Vampire Gloves
Floggers; Various leathers ranging from very light to very heavy
Electrical Toys
Neon Wand
Violet Want
PES Box with Add ons
Hospital Grade Tens Unit
Red Zapper
Cattle Prod
Stun Guns
Electric Fly Swatter
Tens Unit
Devil's Toy
Dog Shock Collar
Feminization Items
Wigs in all colors
Stockings and tights
Lingerie
Panties (Size Medium-4XL)
Bras (Size 36C-40D)
Garters (Medium-Extra Extra Large)
Corsets (Waist size 24-44)
Heels (Size Womens 8-16)
Full Outfits (Limited Sizes)
Make Up (Very large collection but if you want if a full look, be prepared to do some shopping)
False Breasts (Only One size
Breast Pump
Medical Equipment
Cupping Kit
Speculums
Sounds
Needles (6g-30g)
Play Piercing
Medical Table
Medical Muzzle
Medical Restraints
Knives and Scalpels
Suture Kits
Enema Kits
Stethoscope
Blood Draw Kits
ADBL Items
Diapers
Stuffed Animals
Coloring Books
Finger Paints
Baby Food
Bottles
Pacifiers