Hello, curious suitor.
Welcome to the lair of Seattle Dominatrix Ruby Enraylls. You are looking to explore BDSM, domination, fetish & kink or maybe you are simply looking for a new experience altogether. I suspect you crave a connection with a dominant woman that allows you to give up control and explore your deepest, darkest fantasies. Perhaps you have had a lot of experience with BDSM and you are looking for someone who can match your experience level or maybe it is your first time meeting a Dominatrix and you're looking to have an exquisite introduction to BDSM. No matter your experience level, I'm delighted to have you. Your secrets are safe with me.
If you are not 18 years old or older, this website is not for you. Kindly leave.
Being the one who is always in control is taxing, sometimes you just need someone else to take charge. You seek an authentic connection with a dominant woman; A powerful seductress who will captivate you and draw you into her all encompassing world of fantasy, BDSM, fetish exploration and domination. You crave a dominant/submissive relationship where you can explore without judgement and discover a new part of yourself. Maybe even a new way of experiencing the world.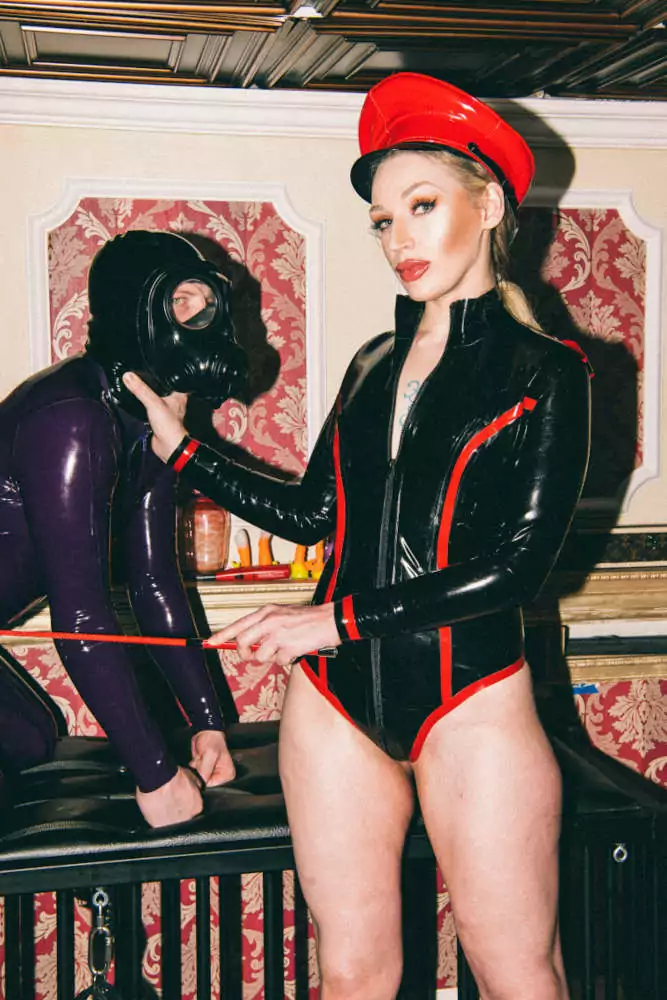 Whether you are seeking out deep exploration into a realm of of your darkest fantasy, to give yourself in total submission, to fantasize only about what could be, to experience something new or to discover something intangible you have found yourself here and I'm sure the reason for this meeting will make sense to both of us in due time. For now, you have found yourself at my feet and my whims- Let's get to know each other.
The idea of not having to call the shots the allowing someone else to take control is sexy, isn't it? Especially someone who really knows what she's doing. As an exquisite professional Seattle dominatrix with well over a decade of experience, I can push all your buttons and keep all your secrets effortlessly. You may first notice my stunning beauty but you'll soon notice my sharp wit, sense of humor and the way that I mysteriously put you at ease. While I can definitely restrain you with ease and use bondage to make you comply, my charm will have you seduced into submission effortlessly. That is only one of the tricks up my very capable sleeve. Have you ever been so comfortable and enraptured that you confessed all of your darkest desires? Prepare yourself to be dazzled and surrender to a powerful and seductive Mistress.
Perhaps you have experience with BDSM or maybe you have only had fantasies (I invite you to explore my fantasy page to expand your mind . For extra credit, visit my interests page and see if my proclivities strike a tune with you nd inspire more daydreams of dominant women and BDSM.)
No matter what brings you to me, it would be my pleasure to encourage your exploration of domination and the erotic underworld.
I implore you to look within yourself.
What is holding you back from taking a step further from simply wondering "what if"?
Meet The Incomparable Seattle Dominatrix Ruby Enraylls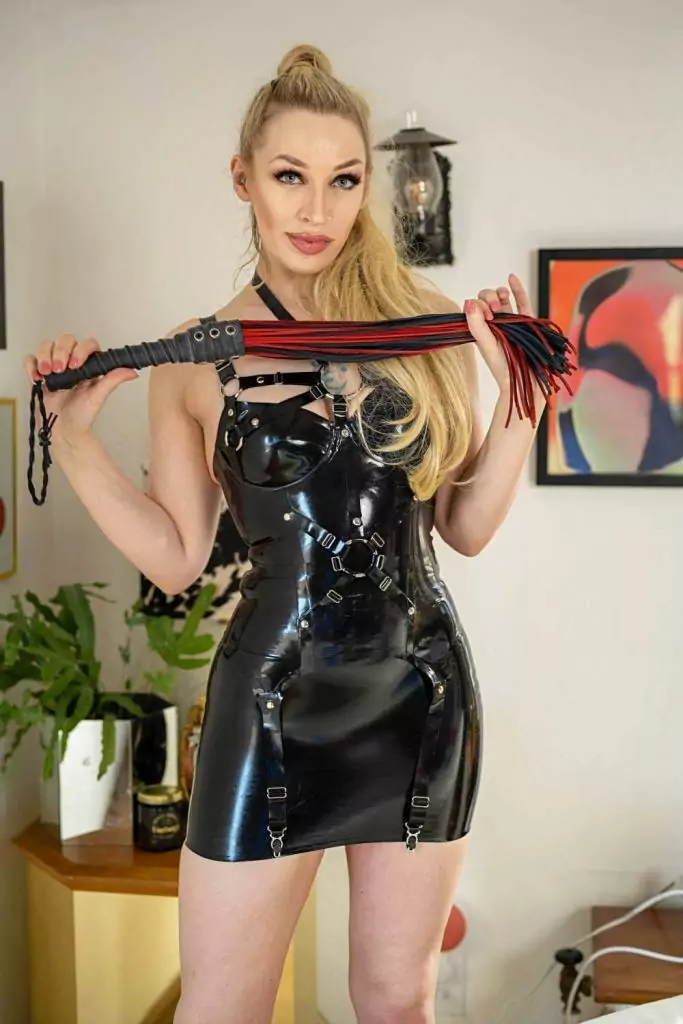 I am the mysterious feminine creature you have always dreamed of in hazy wandering lustful daydreams; The overtly commanding schoolgirl or teacher in your class who made you weak at the knees before you knew what it meant to be an adult; The deviant seductress who enraptured men in your favorite TV show and drove them to carry out her wicked whims.
Being a Dominatrix is a huge part of my life and I relish indulging in every second of it. I think that power exchange is extremely erotic and very powerful, it is my favorite part of BDSM play. Giving over control to a Dominant can be a part of so many different kinds of play, for example bondage, humiliation, denial or roleplay. Giving over control involves trust and connection and shouldn't be taken lightly. As such, I invite you to explore my presence to your heart's content and take it all in. Finding the right Mistress for you is critical to having a good experience, whether you are very experienced or it's your first time. The right fit can make all the difference.
Many Mistresses and Dominas have a specialty, I tend to hyper focus on a skill for an extended period of time and then add that to my repertoire. I enjoy being able to imagine a scene and curate it for many different experience levels and having a broad skill set and large toy collection is crucial to this. As such, I rarely scene outside of my own space unless it's for something specific. As you might imagine, due to how long I have been active in the BDSM community I have a well developed skillset. I take great pride in my craft as a Dominatrix and I am always looking to create something new, fantastic or just plain kinky. Bring me your ideas, no matter how wild, weird, simple or intricate. Let's make your kink dreams into a reality.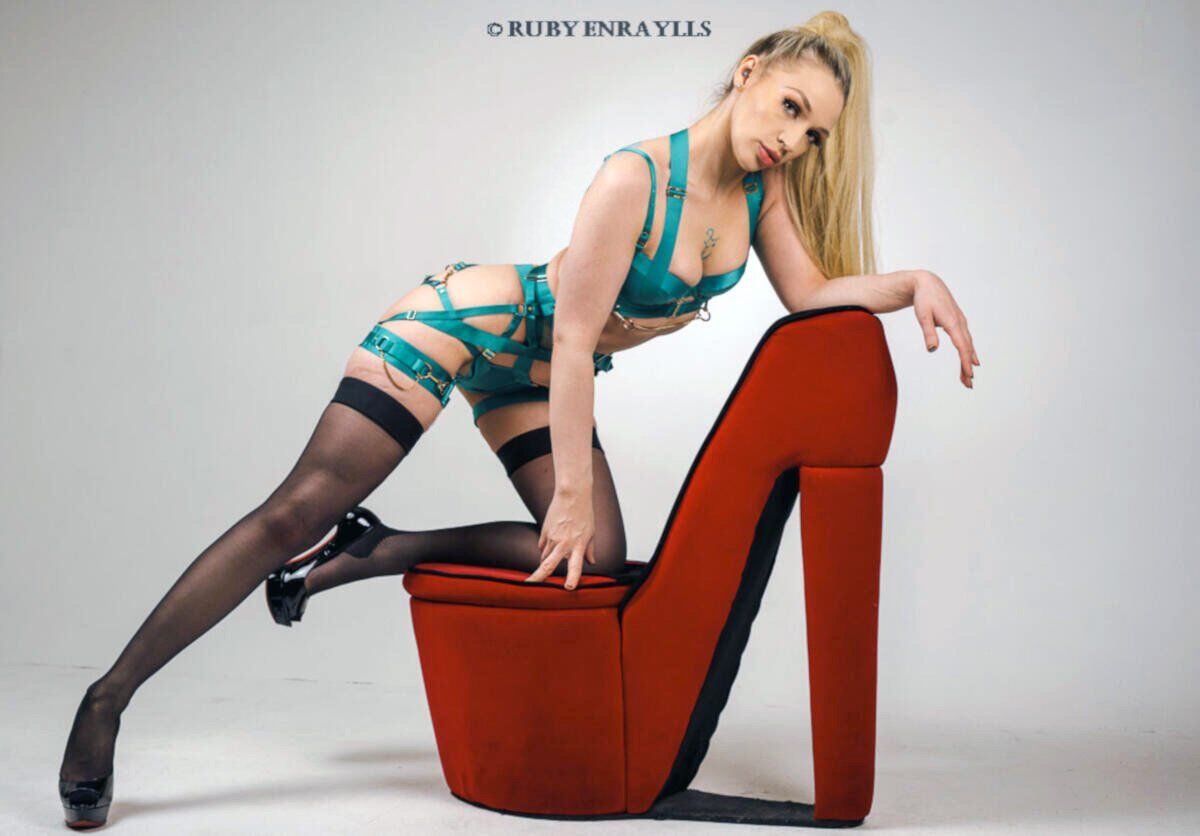 When seeking an audience with me, please allow at least 24 hours of lead time before your request. I am often busy, so I recommend booking as early as possible.
Please take care to explore my areas of expertise through my sessions pages. To show the utmost care and consideration. Please use the page linked below to arrange a meeting with me. Your diligence will be rewarded.
Click here to Schedule
It's natural to be nervous but that is okay. Perhaps reading my little guide on what to expect from your first session with a seattle dominatrix will help ease your mind. Be sure to read my Frequently Asked Questions section as well, I'm sure you will find it informative.
Contact Info, Hours for Seattle Mistress Ruby Enraylls
Email: Ruby@RubyLovesYou.com
Phone: 206-486-4960
Contact Page: Contact Info & Scheduling
Contact Form: Schedule Now and Submit to Me
Hours: Daily 8AM-10PM
What should you expect from a BDSM session?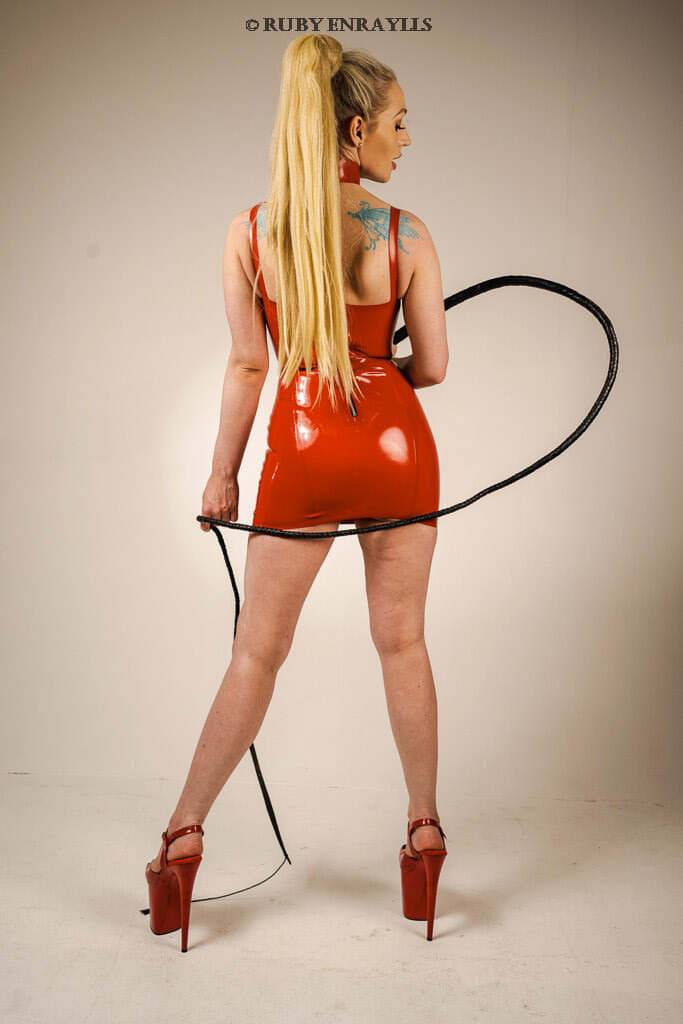 When I open the door, you will be met by a tall, ethereal blonde woman with piercing green eyes. I will calculate and scan your every move without judgment or prejudice. I will invite you past the threshold of my door, our eyes will meet and you will feel a wave of understanding wash over you. A strange feeling will grow within you while you are in my presence. Suddenly it will dawn on you. You will realize that you have found a home at my feet.
In sessions, I am myself and it is my goal to make you better for having known me. Sometimes this means pushing you in unexpected ways and that means you need to put yourself in my hands, completely. I will expect you to communicate clearly with me and trust me. In my mind a scene is created by two people and we have to lean on each other. To me this is not just about being a cruel harsh mistress, this is about connecting on another level too and I revel in that. I hope you will too.
When you arrive, it is my hope that you will leave your responsibilities, worries, fears, anxieties, troubles, issues, problems, trauma, etc. At the door along with your shoes so that we can both see each other clearly. When we see each other clearly, we can exploit that and go deeper than the frivolous.
Bespoke Femdom Sessions
Every interaction I have with every one of my playmates is different and curated. I think that it's natural to be curious about what a session with a dominatrix will be like but the experience of playing with a skilled Dominatrix is unlike any other. If you have experience in the local Seattle BDSM community, you have a closer idea of what to expect.
I am a highly skilled and experienced Dominatrix and I have so many skills that make me an amalgamation of eroticism and expertise. The only way to know for sure what your individual experience will be like is to take the plunge.
Since I am sometimes a kind Mistress, I will somewhat satiate your curiosity about my play style.. My sessions range from Sensual Domination to Classical Intensive Protocol based Femdom and everything in between. I began my interest in BDSM in the lifestyle community when I was 18 so I am highly skilled when it comes to hardcore bondage and intense sadism but there is nothing I enjoy more than using my seductive powers to control my playthings.
Now that is just beginning to scratch the surface of my interests.
Be sure to browse my Seattle BDSM dungeon tour as well to see my list of BDSM gear and kinky furniture or browse my gallery to gaze at my beauty. I frequently post updated photos (and video) to my Twitter feed, so be sure to check that out!