Who is Dominatrix Ruby Enraylls?
Pronunciation: Ruby (Roo-bee) Enraylls (On-Rails)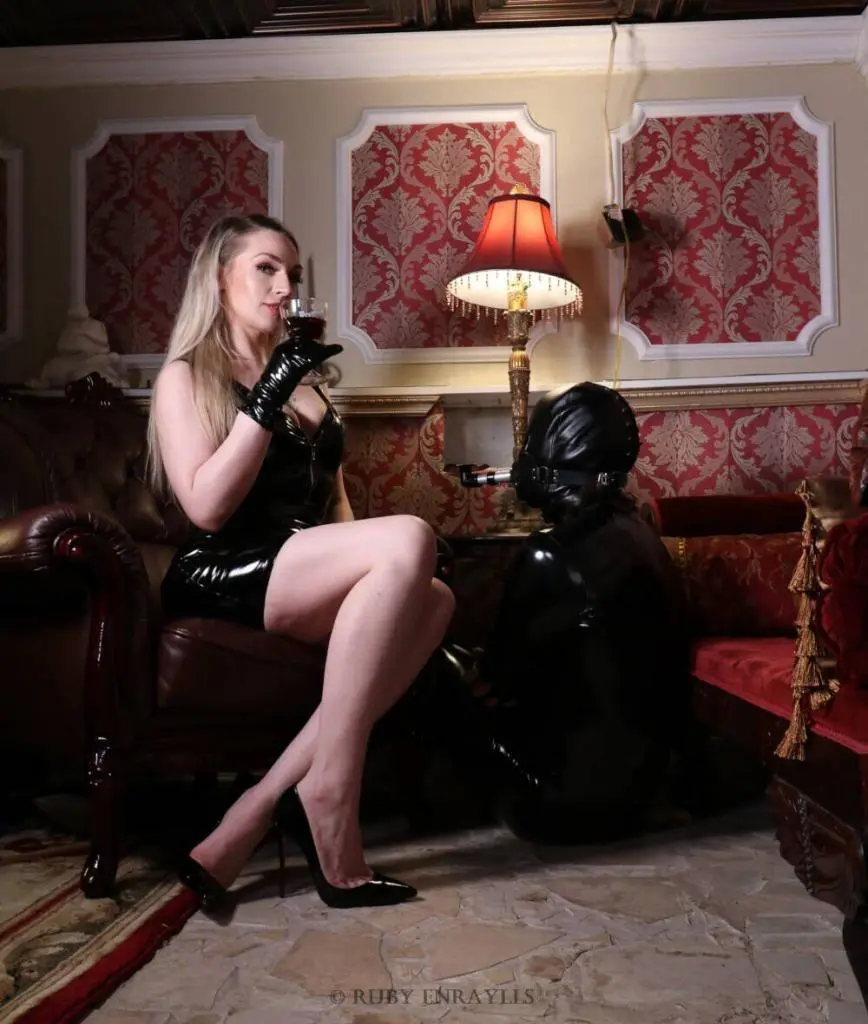 You may recognize me from as the Dominatrix Ruby Enraylls from YouTube or perhaps from a Femdom porn video. I very much enjoy creative projects like filming femdom videos for my favorite playmates to salivate over. On my off time I enjoy roleplaying games (online roleplaying helped grow my interest in BDSM originally), baking (I'm celiac) and practicing my vocal skills (I am a professionally trained singer.) I have been in the Seattle BDSM community for well over a decade and I have been a practicing Professional Dominatrix in Seattle for just as long. I enjoy honing my craft and adding to my skillset, perhaps I can show you sometime.
Dominatrix Ruby Enraylls' Biography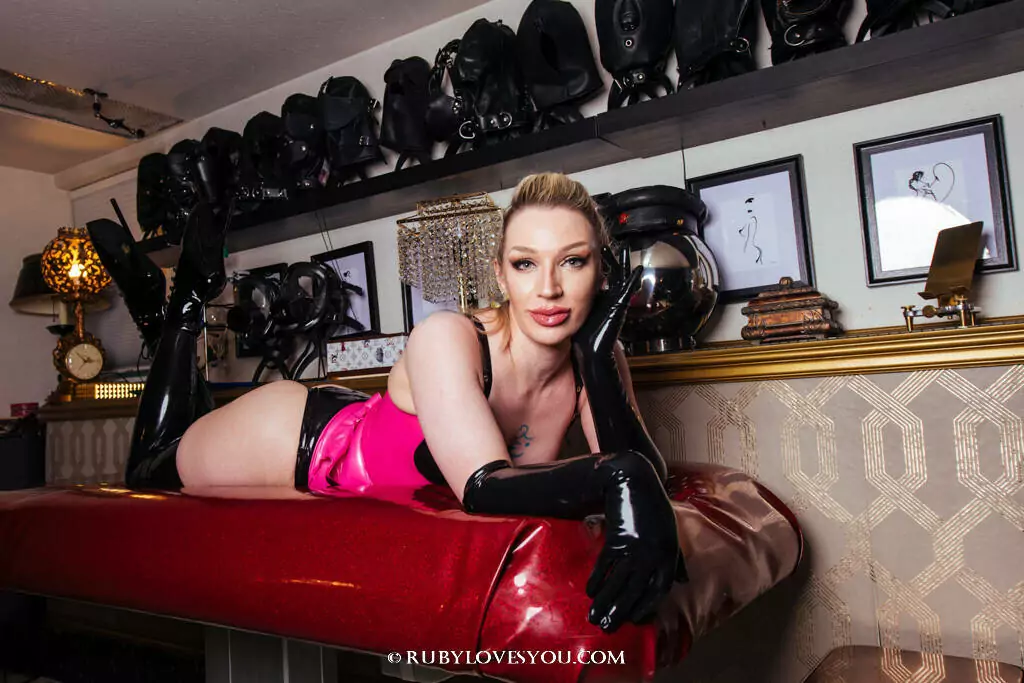 I've been drawn to kink, Femdom and BDSM for as long as I can remember. In one way or another. When I was young I would innocently tie up my Barbies because I loved how rope felt in my hands. I learned knots from a young age after lots of camping trips and long fishing trips. My rope work slowly began getting more evolved as I got more comfortable and took on an artistic form. In additional to the barbie bondage I remember shoving my very first Ken into a pink frilly ball gown and begging my mom to sew him into it when his massive waist split the seams of the satin fabric. Although this was all innocent, my interests remained more or the same as I grew older. The same but of course, expanded.
My Early Kink Inspirations
I had a friend who I played with forced feminization tell me "You would be a great dominatrix" as he handed me and copy of The Stranger with Control Tower. This was how he introduced me to Mistress Matisse's writings. This was the second time I had come across the word "dominatrix".
I had heard the word "dominatrix" before. As my mother had referred to an outfit she made. Then later on jokingly, she told me I would rather be that than a nun. I wanted to punish people with rulers and I told her I wanted to be a teacher. Naturally, she told me that being a teacher in the early 2000's did not allow for corporal punishment. Certainly not at my very liberal arts school. As such, she told me I should consider being a nun. Quickly, with a laugh she said I definitely wasn't cut out for that! She suggested maybe I should be a dominatrix instead. I think she was joking but then she gave me a couple of very decorative whips from France. So who knows how serious she actually was.
Another one of my early influences as a budding Dominatrix was Xenia Onatopp. Watching her hold men captive with her powerful legs in Golden Eye was inspiring.
How I became a Professional Dominatrix
I got into kink officially almost by accident. I felt drawn to the exploration of out of the ordinary carnal activities. When I first began, as many do, by reading as much as I could get my hands on. Then of course experimentation began. Fortunately I started my exploration of BDSM and Femdom with some very patient submissives.
A little over 10 years ago I found my way into what I would know later as the Seattle BDSM scene. Then I only knew it as a club in the middle of the city where I could take some classes. Without these classes and connections through the community, I never would have been able to grow and hone my skills to what they are today. I am forever grateful for everyone who has shared their knowledge with me. Having this wonderful community gave me the confidence to spread my wings and explore my interests and shortly after I started playing with my first real sub of my own.
I've had several I could call my own over the years and through their dedication and loyalty I've had the opportunity to grow, learn and hone my skills. I didn't get start as a real time professional dominatrix until shortly there after where in I began exploring kink and myself even more and the fun really began for me. I explored many venues, some good and some not so much my taste. Due to my curiosity I carry a long list of qualifications.
Discovering My Identity as a Dominatrix
I discovered a passion for rope early on in my exploration, Seattle is famous for its shibari scene, as is Vancouver, BC. That passion was shortly followed by a love for sadism, reaction and connection and above all else, a strong desire for control. I think play is all about connection as its core and kink itself is a spectrum. When I describe it to people who don't understand I often use the ice cream analogy; Kink is like stepping outside the realm of just enjoying vanilla with adding different things. You can have vanilla praline, vanilla with fudge, etc. Once you open your mind to kink you can try any flavor you can dream up. The limits are your imagination and what you are willing to do with yourself and others. D/s is much the same as I think that all interactions have some type of power structure, even if it's just neutral. D/s is just awareness of that and playing with it.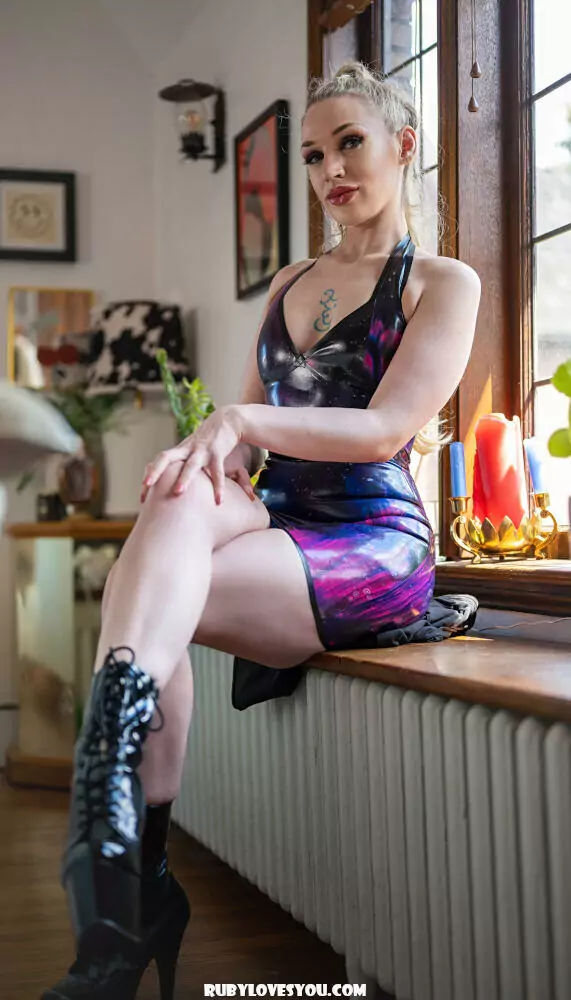 Attributes
Age: 29
Birthdate: April 14th
Personality Type: INTJ
Education: Bachelor's Degree
Languages: English, French, Japanese (and I can sing in Italian)
Hair Color: Blonde
Eye Color: Hypnotic Green
Fun Fact: When I'm not dressed as a sexy dominatrix, I often wear a hardhat and professionally handle fireworks and other explosives. Although it is a paying job, I consider it more of a hobby.
Wishlists
My Amazon Wishlist – A Bit of Everything
Wishlistr List – Everything Else Online (Lots of Latex/furniture)
Net-a-porter Wishlist – Luxe Stuff, Spoil Me
Etsy Clothing Wishlist – Handmade Things/Small Designers
Etsy Gear Wishlist – Handmade Things/Small Creators
Some of my Favorite Things
Ideal Night Out: Great food followed by having my socks knocked off by a great show.
Ideal Day Out: Exploring an art exhibit or doing something naughty followed by a spa treatment.
Favorite Food: Traditional Japanese Ramen, Sushi, Dumplings, Steak, Italian, anything with garlic or whatever is for dessert. Unfortunately, I am completely gluten free.
Favorite Beverage: French Vanilla black tea with cream and sugar or a nitro cold brew.
Favorite Genres of Music: Baroque era chamber music, Early-Mid 1900's Jazz, 90's Alt Rock, Trip hop, Female Vocals, Electronic, Downtempo, Electropop
Signature Scent: Black Opium by YSL
Favorite Flower: Stargazer Lilies
Interviews
Ethical Domination and Proper Aftercare Featuring Dominatrix Ruby Enraylls
Dominatrix Ruby Enraylls Feature Interview on Domme Addiction #1
Dominatrix Ruby Enraylls Feature Interview on Domme Addiction #2
Print
All in a Day's (sex) Work – Book
Appearances
Porn Entries
Dominatrix Ruby Enraylls on House of Gord
Mistress Ruby Enraylls on Yanks
Dominatrix Ruby Enraylls On Club Stiletto
Wikientries
Dominatrix Ruby Enraylls' Wikifeet
Dominatrix Ruby Enraylls' IMDB
Dominatrix Ruby Enraylls' IAFD
Mistress Ruby Enraylls' Hot Movies Page