There's more to me than just being a Seattle Mistress; I live to connect with people and through that I hope to share a special bond of trust, intimacy and understanding with everyone that I play with. Without connection, we are nothing.
---
My name is Mistress Ruby Enraylls and I am a Seattle Dominatrix.
What is a Dominatrix?
A dominatrix is a woman who is in control. She wears outfits that are sexualized, maybe leather, heels, stockings. There are many different versions of a dominatrix. A dominatrix likes control, it feeds her on some level and she enjoys a version of BDSM activities. In the current era there are many ways to interpret this- Purists say it's physical only but I believe you cannot have the physical aspect of BDSM without the mental, or vice versa.
How I got into Femdom
To be completely honest, I probably always have been. I've been drawn to kink for as long as I can remember in one way or another. When I was young I was very drawn to knots and rope work and started playing with tying up my Barbies in elaborate ways after setting up whole scenes and roleplays around them. These roleplays had some interesting themes, I even remember shoving my very first Ken into a pink frilly ball gown and begging my mom to sew him into it when his massive waist split the seams of the satin fabric. I suppose I always had a non standard outlook, maybe I came out of the box weird? Either way I've enjoyed the ride.
When I was young and impressionable, I had a friend who I played with forced feminization tell me "You would be a great dominatrix" as he handed me and copy of The Stranger with Control Tower. This was how he introduced me to Mistress Matisse's writings and this was the second time I had come across the word "dominatrix". I had heard the word "dominatrix" before, as my mother had referred to an outfit she made. Then later on jokingly, she told me I would rather be that than a nun because I wanted to punish people with rulers and I told her I wanted to be a teacher. Naturally, she told me that being a teacher in the early 2000's did not allow for corporal punishment (certainly not at my very liberal arts school) so she told me I should consider being a nun. Quickly, with a laugh she said I wasn't cut out for that then said I should be a dominatrix instead. I think she was joking but then she gave me a couple of whips so who knows how serious she was.
Another one of my early influences was Xenia Onatopp. I don't know how anyone watching Golden Eye couldn't watch her powerful legs holding men captive and hear her seductive Russian accent and not be swayed be her murderous charms.
From a young age my mother was very supportive of my alternative choices and if I didn't know any better I would have assumed she was nudging me towards the femdom lifestyle; She would encourage me to take on a state of mind where women ruled things and encouraged matriarchy, (maybe not for the best) talked down to men cut her off in traffic by insulting their genitals, gave me whips and taught me how to use them, to name a few. If that's not a good jumping off point, I don't know what is. However, if you ask my mother about BDSM she vehemently denies any interest.
How I became a Professional Dominatrix
I got into kink officially through members of the BDSM scene over 10 years ago although my duration as a professional dominatrix has been a bit shorter. I began spreading my wings and exploring through classes, workshops and parties and shortly after started playing with my first real "sub" of my own. I've had several I could call my own over the years and through their dedication and loyalty I've had the opportunity to grow, learn and hone my skills. I didn't get start as a real time professional dominatrix until shortly there after where in I began exploring kink and myself even more and the fun really began for me. I explored many venues to be honest, some good and some not so much my taste. Due to my curiosity I have a long list of qualifications.
I started off in Phoenix, AZ but didn't really get involved in the BDSM scene until I came back to my hometown of Seattle, WA. I joined the local community and made a lot of fabulous connections with wonderful kinky people through local event spaces and Fetlife. I found people who mentored me, taught me and allowed me experiment before I had the courage to explore being a professional dominatrix. I discovered a passion for rope (Seattle is famous for its shibari scene, as is Vancouver, BC.) Then shortly there after discovered my love for sadism, reaction and connection. I think play is all about connection as its core and kink itself is a spectrum. When describing it to people who don't understand I often use the ice cream analogy; Kink is like stepping outside the realm of just enjoying vanilla with adding different things. You can have vanilla praline, vanilla with fudge, etc. Once you open your mind to kink you can try black ice cream, green ice cream with gummy snakes, bubble gum, chocolate, ketchup ice cream, you name it. The limits are your imagination and what you are willing to do with yourself and others. D/s is much the same as I think that all interactions have some type of power structure, even if it's just neutral. D/s is just awareness of that and playing with it.
When I first started out I wanted to explore everything then quickly found that was impossible. I still have a fondness for novelty and the unusual. I strive to execute things well and to practice my arts frequently because I think there's nothing worse than becoming rusty. As I've grown as a mistress I've found that I don't have a particular draw towards particular activities, per se but rather my moods dictate my head space and I enjoy bending people to my will. I like finding the right buttons to push to get the reaction I want so each person may see a very different side of me.
I have heard the sentiment echoed over the years that an insecure person will try to prove themselves the most, or speak the loudest. I am often very soft spoken and mild mannered although my words can be quite harsh if you're paying attention. I bend the world around me to will, I do it effortlessly. I don't need to scream at you to make you fear me. I don't need to be mean to you to get my point across. I don't need to do anything other than be myself. A softly spoken word that makes your knees weak, with my hand firmly in your hair will do the trick.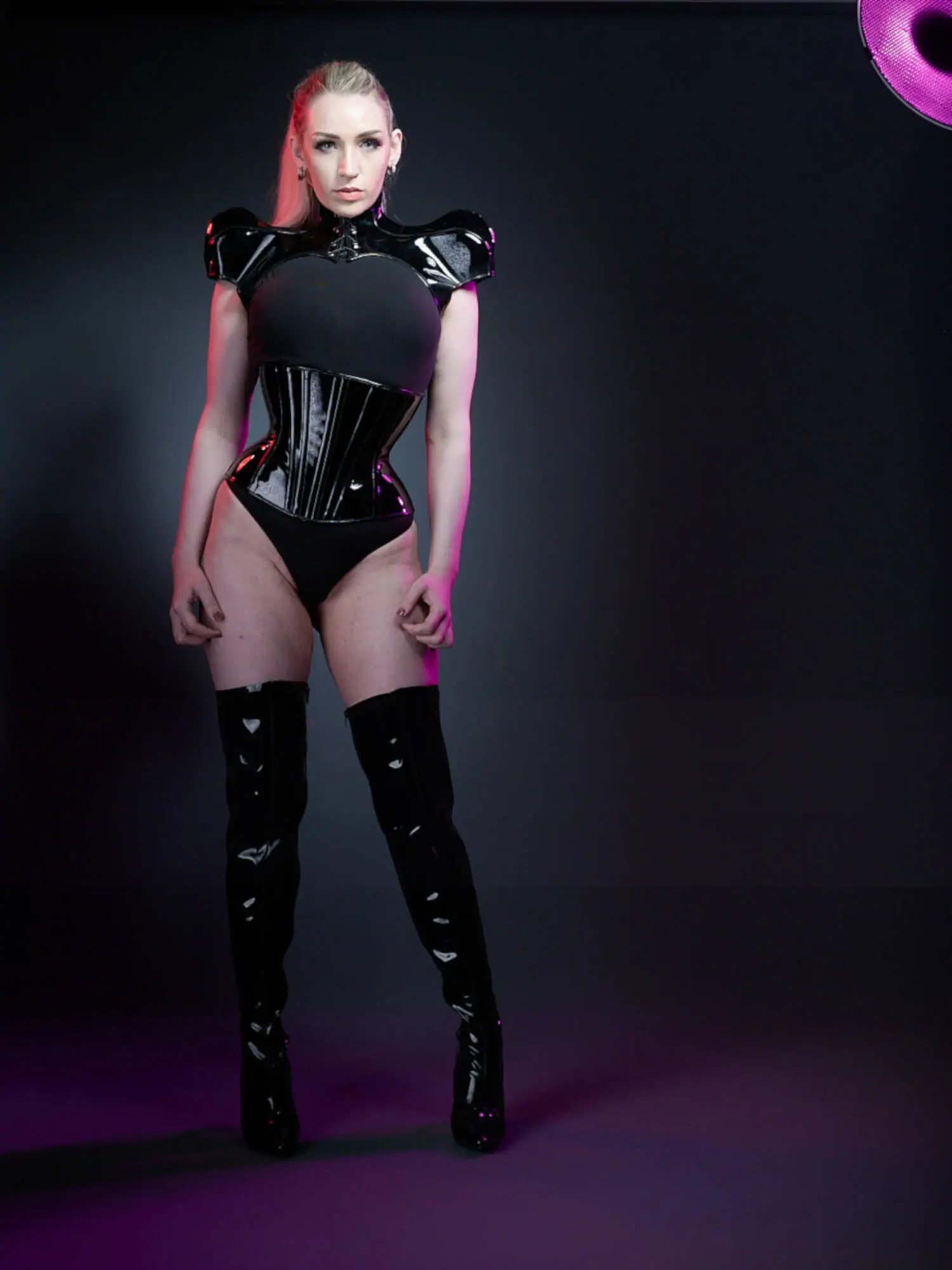 Accreditation
Interviews
https://dommeaddiction.com/feature-article-ethical-domination-and-proper-aftercare/
https://dommeaddiction.com/feature-interview-mistress-ruby-enraylls/
https://dommeaddiction.com/feature-interview-domina-ruby-enraylls/
Print
All in a Day's (sex) Work – Book
Educational Videos
https://www.youtube.com/watch?v=C3KTOHIiAno
https://www.youtube.com/watch?v=CkHyHftIPJY
https://www.youtube.com/watch?v=lBHc7qM5BMw
Appearances
https://www.facebook.com/theokstupidshow/?tn-str=k*F
https://www.thestranger.com/events/33986658/the-outrageous-show
Porn Entries
https://www.houseofgord.com/b/ruby
https://www.yanks.com/models/ruby-enraylls_2.html
https://www.clubstiletto.com/mistress/ruby-domina
Plus some other things when I was exploring but you'll have to dig for that. 😉
Wikientries
https://www.imdb.com/name/nm5502975/
https://everipedia.org/wiki/lang_en/ruby-enraylls/
http://www.iafd.com/person.rme/perfid=rubyenraylls/gender=f/ruby-enraylls.htm
https://www.hotmovies.com/porn-star/154339/Ruby-Enraylls-.html
https://www.adultempire.com/rental/641415/ruby-enraylls-pornstars.html
Spoil Your Mistress
Wishlists
Wishlistr: Wishlist
Netaporter: Wishlist
Nordstrom: Wishlist
Gift Cards: Send to RubyEnraylls@gmail.com (Always ask before sending!)
Genejuarez: Gift Cards
Sephora: Gift Cards
Home Depot: Gift Cards
Statistics
Age: 28
Birthday: April 14th
Personality Type: INTJ
Movie Stereotype: Femme Fatal
Education Level: Bachelor's Degree
Languages Spoken: English, Japanese and French (neither of the latter well. I can also sing in Spanish and Italian.)
Fun Fact: When I'm not dressed as a sexy dominatrix, I often wear a hardhat and professionally handle fireworks and other explosives. Although it is a paying job, I consider it to be more of a hobby.
Physical Attributes
Hair Color: Platinum Blonde
Hair Length: Long
Eye Color: Hypnotic Green
Physical Details
Height: 5'9″
Weight: 133 Pounds
Build: Athletic with Curves
Dress Size: 2-4, depending on the cut and brand (please ask me before purchasing!)
Bust: 34 inches
Waist: 25 inches
High Hip: 34 inches
Low Hip/Butt: 36 inches
Shoe Size: 40.5 (9.5 US), size 41 (10 US) if narrow
Modifications
Piercings: Breasts, Belly Button
Tattoos: Blue sigil between breasts, blue fairy-esque wings on shoulders, blue infinity symbol on back of neck
Some of my Favorite Things
Ideal Night Out: Great food followed by attending the Symphony or attending a fun show.
Ideal Night In: Ordering some ramen to go, curling up somewhere nice and watching a weird movie.
Favorite Food: Traditional Japanese Ramen, Sushi, Dumplings, Steak, Italian, anything with garlic or whatever is for dessert
Favorite Beverage: French Vanilla black tea with cream and sugar or lightly sweetend cold brew(Stok chocolate is my current favorite) or a good latte, no Starbucks please.
Favorite Color: Aqua (like my tattoos) or deep, dark red
Favorite Genres of Music: Baroque era chamber music, Early-Mid 1900's Jazz, 90's Alt Rock, Trip hop, Female Vocals, Electronic, Downtempo, Electropop
Favorite Bands/Artists: Portishead, Ella Fitzgerald, Handel, Hayden, Vivaldi, Billie Holiday, Odesza, Halsey, Sia, Ellie Goulding, Lana Del Ray, Melanie Martinez, Metric, Galantis, Pretty Lights, Nine Inch Nails
Favorite Scent: Black Opium by YSL
Favorite Opera: Bizet's Carmen
Favorite Video Game: Psychonauts
Favorite Flower: Stargazer Lilies
Hobbies
Singing: I am currently taking weekly singing lessons from one of the best Opera teachers in the Greater Seattle Area. My studies of focus are Blues, Jazz, Opera, Pop and acapella.
Modeling: I am very passionate about creating art and one of my favorite mediums is using my body as a canvas. I am currently working with a bunch of different photographers to create lots of different styles of photos. I have been modeling since I was 18 but I didn't get into it seriously until I was in my 20's.
DiY Construction and gardening: I am always improving my dungeon space as well as my home: I am currently exploring everything from painting to plumbing, drywall to electrical, landscaping to design and everything in between. If you'd like to enable me to do more with my hands, Home Depot Gift Cards or certain plants perennial plants (ask me what I'm currently working on) are a great way to do that!
Front End Web Design: "Fuckery" might be more accurate than design, especially when it comes to style sheets but regardless I have loved messing with design elements since I was pretty young. I think it's fun to create a digital space that other people can see, I like designing things in general and sometime I don't like using my hands in the physical space so it's nice to have other skill sets. I've messed with a little bit with PHP and Javascript.
D&D/Roleplay Games: Again, a holdover from my youth! Who wouldn't want to be a Demon Goddess from hell who kills the hero with a movable moonbeam? Sometimes it's fun to be the villain.
Make Up Artistry: It's pretty obvious from my photos that I love make up! My love for make up comes from my dad being enamored with drag queens and my love for Hollywood glamour. If you ever want to put a big smile on my pretty face, you're welcome to get me a Sephora Gift Card.
Volunteering with various charities: I am a strong believer in giving back to the community and I am an even stronger believer in being kind. Ever since middle school I have volunteered with various charities and I still continue to do so. In the past I have been involved with: The now defunct Boomtown cafe; A free service oriented cafe that provided hot meals and indoor dining for homeless and poor families, Habitat for Humanity; At the time I was too young to help build houses so I prepared food for the workers, Wet Lands Preservation; I helped replant native plants and restore local wetland habitats and wildlife reserves, Dance Safe; For a number of years I helped provide emergency services for at risk teens and I provided unbiased information about drugs, Suicide Hotline; For a number of years I have helped support those in times of crisis by being available to talk them down and provide support in their hour of need.
I think it is critically important to give back to the world at large, don't you?
Learning New Skills: Who doesn't like learning?