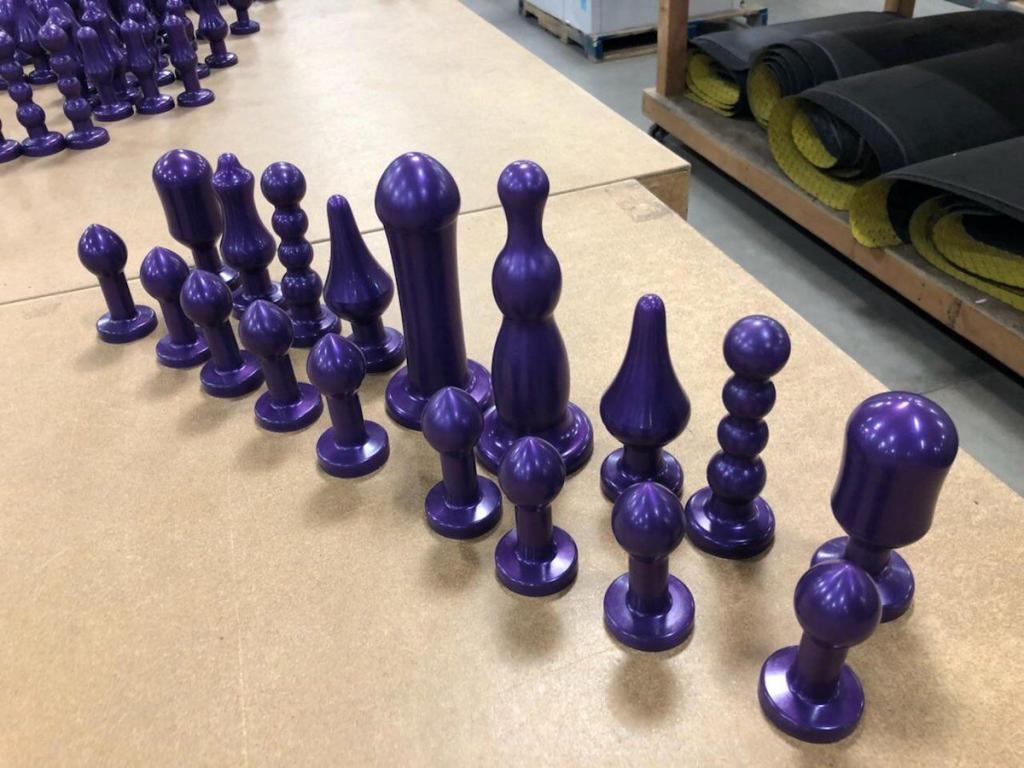 Everyone has to start somewhere, this is a BDSM toy guide for anyone starting a collection. I wanted to share my favorite BDSM toys and gear I think is essential for any kit in an easy format. Whether you are a domestic dominatrix in training, a couple looking to spice things up or a loyal sub with dreams of having the perfect toy kit, this list is for you.
Strap on harness
Every dominatrix needs a good harness that fits well, is comfortable and gets the job done right. For the beginning dominatrix you might think "I will get a kit" but that is a mistake. Strap on kits usually come with a nylon strap harness and dildos that are so-so (usually too big or too small.) It may take a while to figure out what you like best but my favorite is The Jag by Aslan Leathers I like thong harnesses that can be converted and the leather is treated so it's easy to clean and doesn't break down over time.
Dildos
It will take a while for anyone who is a beginner dominatrix to figure out what kind of dildos they like but I recommend materials that are body safe over jelly toys or PVC. I think it's important to make sure it's easy to clean/cover as well. Tantus has a great selection of toys to choose from that come in a variety of colors and sizes.
Restraints
Restraints are very personal in their appeal. Maybe you're a leather fan, or perhaps you enjoy the art of rope bondage. For those who are first exploring bondage, I have enjoyed Hemp Rope by Twisted Monk. It's more expensive than what you will find at a hardware store but also more versatile. For example, you can use rope to tie a set of handcuffs or a create a cuff that you can attach anywhere. I began with rope and still find its meditative process to be grounding and a great way of building energy and anticipation within the scene.
Impact Toys
Everyone loves the mental image of the dominatrix with the whip, right? It's classic and unforgettable. However, learning to use a whip takes a lot of practice. I suggest starting with something like a riding crop, paddle or flogger first. I love Cane-iac for their creativity with unusual materials and their superb execution of the classics (like a cane, for example.)
Sensory play Toys
Oooh, sensory play. There are so many different ways you can take this- Pokey toys, soft floggers, electro play… It all depends on the vibe of the scene. Sensory play increases suspense when you use it to build a scene or it can push the experience over the top. You can't go wrong with a wartenberg wheel, honestly. I like playing the game of keeping myself to oe random toy and seeing how much I can do with it.
Hoods/Blindfolds
Hoods and such aren't for everyone, some people feel very claustrophobic in them but I think they are a great tool to have in your tool kit. You can surprise someone with sensations or take complete control of them. Personally, I like hoods with the mouth exposed like the Cocksucker Hood by Mr S but in a pinch an eye mask for sleeping is great.
Nipple play
Surprisingly, many don't know about the benefits of exploring nipple play- They are an unfortunately overlooked erogenous zone. I like to warm up with plastic clothes pins which are easily cleanable. If you want to leave the realm of sensory exploration, you can make them squirm with a strong set of clover clamps.
Gags
Are they too noisy? Plug their mouth with a gag to really make them feel helpless! I like ball gags personally but a good dental gag or even a ring gag has a place in my dungeon. I love versatility in all my toys so I find that the options provided by Bondage Webbing to be a perfect fit.
Paddles
How will they know that you mean business unless you can really give them a good, hard spanking? I prefer paddles from Cane-iac. They have a variety of paddles in many different kinds of wood (yes that makes a difference. Let's say it "hits different.") More importantly, I'm yet to break one of their products. Save for canes, of course.
A collar
Lead them around and help them find sub space by locking a collar on. Many subs have told me how a collar has a been emotional impact on them, why not use that power to control them and pull them exactly into the headspace that you want? A formal leather slave collar is wonderful but so is a dog collar. What is your preference? I think quality is very important, so one of my favorite stores is Leather By Danny. You may recognize many of the designs there, now you have found the original source of the creativity.
Image by Tantus