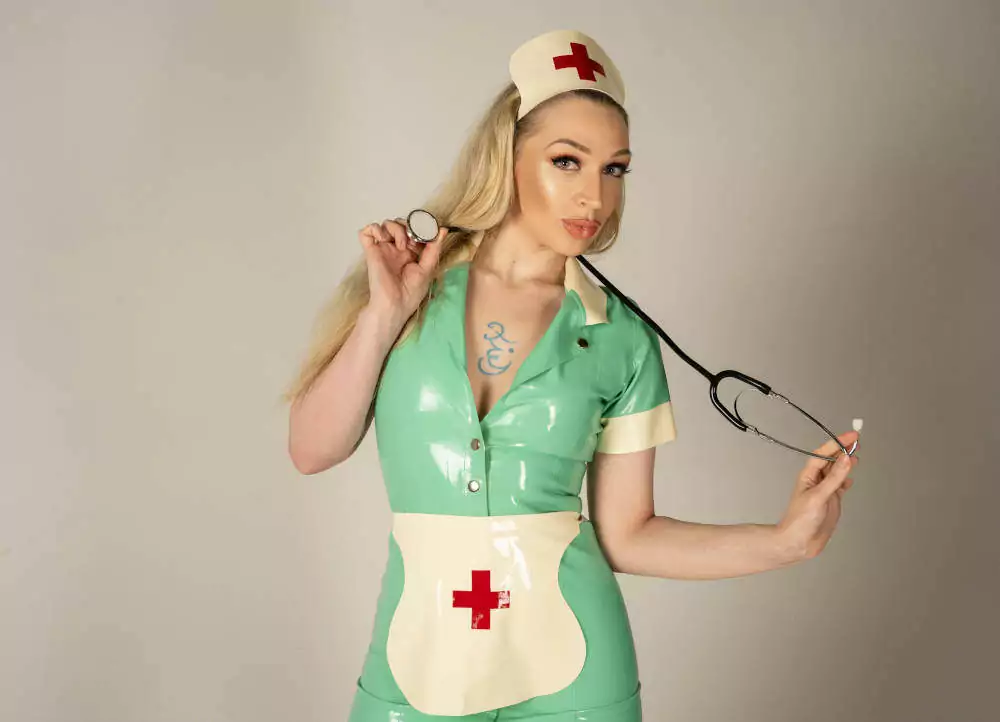 Urethral Sounding is a very popular medfet activity and due to its popularity in videos, its something that many people are curious about. The first question I am always asked is "does it hurt?" The answer should be "no!" As long as you use the appropriate lube, correct angle, adequate technique, good instruments and everything is sanitary- Sounding should NOT be painful. For that matter, catheterization really shouldn't be either but plastic is harder to work with than metal but I digress. That's why I threw away all of my silicone sounds.

In my opinion, soft skills like power exchange and humiliation play are much harder to master than hard skills like urethra sounding. This is because there is a simple set of rules and guidelines you can follow to achieve your goal. With soft skills, it gets a bit trickier. Let's start with what you absolutely need to have in order to actually do urethral sounding- The gear.
The Gear for Urethral Sounding
What Urethral Sounds Should I Buy?
There are many models of sounds. For beginners, I recommend Double Ended Pratt urethra Sounds or Double Ended Hegar urethra sounds. Rolled steel sounds are best, they are more expensive but they will last longer and you can run them through an autoclave or boil them. Sounds come either millimeters or french for sizing purposes. 1 mm is 3 fr. So a 6mm sound is also an 18fr. Typically sounds come in kits unless you are buying an unusual style but I wouldn't recommend starting with that.
Individually Packaged Sterile Lube
Why individually packaged surgical lube? Simple. Once you open it, it is no longer sterile. That's fine for other play but with sounding. You want to maintain as clean of a field as possible. Pretend that you are playing surgeon. When I am doing a sounding scene, I pay attention to order of operations- If there is any butt stuff, that comes last.

Cleaning Your urethral Sounds
The traditional way is boiling them or running them through an autoclave if you have it.
You want to have medical grade sealing sterilization pouches that fit your sounds, pop them in and boil them for at least 20 minutes.
Once they are done cooking, do not remove them from the package until you are ready to use them because you will break the sterile field.
However, many sounds are only coated and not solid pure steel and boiling breaks down the coating. If you aren't sure of the quality of your sounds or you don't have sealed medical packets to sterilize your sounds in, wipe them down with a medical grade cleaner like cavicide. However, you need to make absolutely sure to completely remove and clean the disinfectant off before use as it is harmful to humans and even melts plastics!
Prepping for Urethral Sounding
Always inspect your sounds for any rust, degradation, cracks or rough spots before use. These cosmetic issues can be a home for bacteria or worse, cut your partner's intimate parts during play. You definitely don't want that! Before using my sounds, I make sure that I have grabbed my lube packets, BZK or alcohol wipes and have wiped down a surface to hold all my things. (Medical trays or tables work well.)
If I haven't used the boiling method, I will wipe my sounds down with alcohol or BZK if they have not been boiled and I repeat the process with my gloves and the urethra. (Pro tip: BZK doesn't sting. But make sure to check the expiration date on anything you use, including lube.) Allow time for the solution to dry, this is how most sanitizers kill bacteria and viruses.
Beginning with Urethral Sounding
Urethral sounding is pretty straightforward. You want to match the size of the rod to the hole of the urethra, going larger means it won't fit and too small runs the risk of scratching or puncturing the wall so it has to be just right. You are better going too large than too small though. By holding the tip of a sound near the opening to the urethra, you can guess the size.
In order to sound someone, you want to lubricate the sound, being careful to not allow the open part of the lube packet or the sound to touch other surfaces and once your sound is out of the sterile packet, you cannot set it down or touch past the handle or outside the center (depending on the type.) Don't worry, this is the most difficult part.
Allow the Weight of the Urethral Sound to Carry it
Once your sound is lubricated, align it with the urethra and allow the weight of the sound to slowly pull it in while you gently hold the base of the penis to prevent bending (if your partner has one.) Be careful to not lose your grip or let go, as you may end up with the sound completely lost (it is retrievable but you want to avoid this.) Ask if there is ANY discomfort, burning, stretching, poking, if it hurts or feels wrong. Also look for any redness, signs of inflammation (redness or swelling,) and of course, bleeding. If all is good, then you're good to go. Sometimes folks can have a reaction to the lube so it's good to have a couple brand choices and/or different batch on hand. Or it may just be too inflammatory for someone that day or entirely. Everyone's body is different and the worst thing you can do with something delicate is force it to happen. Same with fisting.

Now that your sound is comfortably inside, you can glide it in and out! Feel free to experiment with different shapes and types of sounds. One of my favorite shops is The Chain Gang. They have some great guides and typically offer much higher quality toys than you'll run into on Amazon or your average BDSM shop as they are a specialty store.
Good luck and have fun!

Still curious? Feel free to contact me!